Are Homeowners Renovating to Sell or to Stay?
 Over the past few years in Northeast Florida, two trends have emerged in the housing market:
Home renovations have shot up
Homes available for sale have dropped
A 'normal' housing market is defined by having a 6-month supply of homes for sale. According to the latest Existing Home Sales Report from the National Association of Realtors, we are currently at a 4.4-month supply.
In Jacksonville and St Augustine this low inventory environment has many current homeowners worried that they wouldn't be able to find a home to buy if they were to sell their current house. This feeling is causing many homeowners to instead renovate their homes in an attempt to fit their needs without moving.
According to Home Advisor, homeowners spent an average of $6,649 on home improvements over the last 12 months. If that number seems high, it also includes homeowners who recently bought fixer-uppers.
A new study from Zillow asked the question,
"Given a choice between spending a fixed amount on a down payment or fixing up your current home, what would you do?"
Our Survey Outcome
Seventy-six percent of those surveyed said that they would rather renovate their current homes than move. The results are broken down by generation below.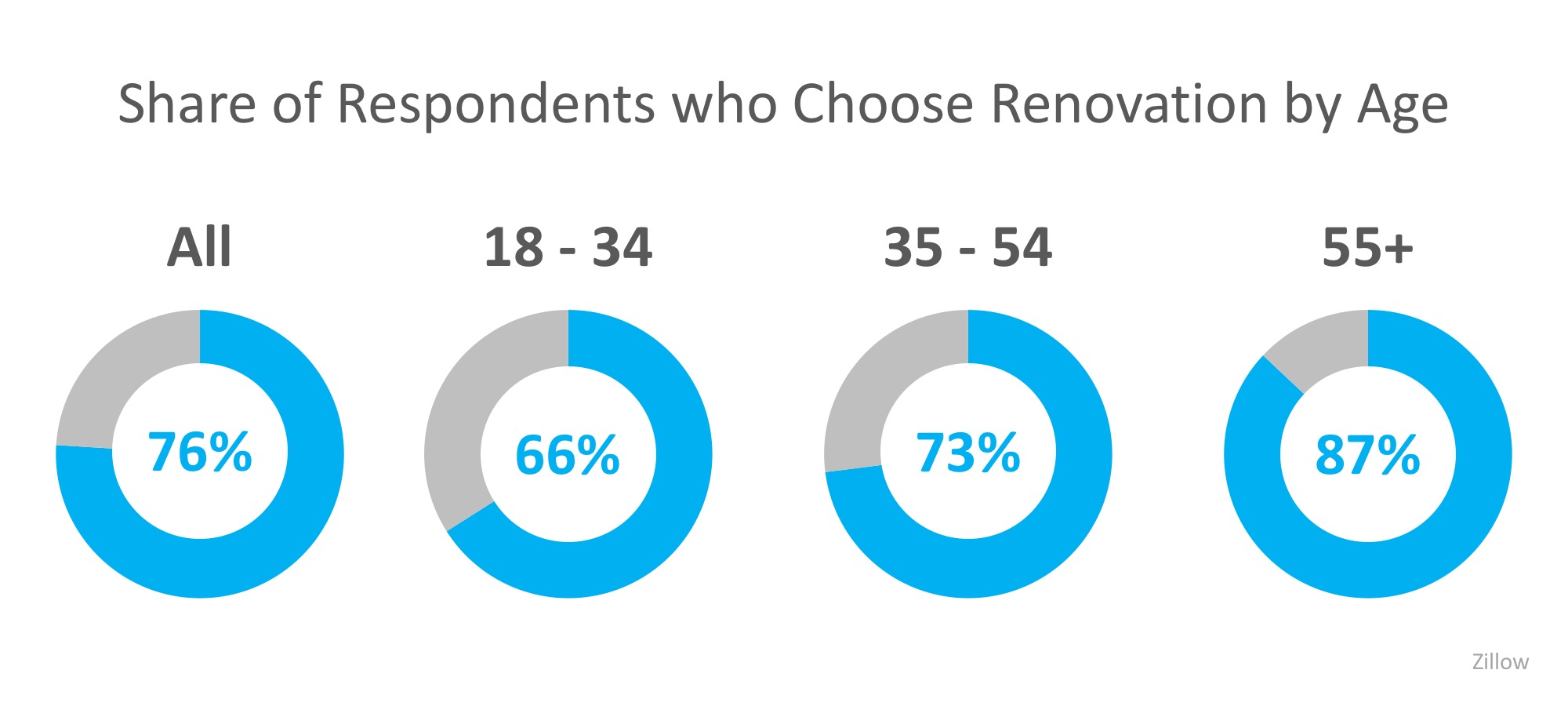 Many studies are being published about how Americans have to 'age in place' (or retire in the area in which they live). Among retirees, 91% would prefer not to move and therefore choosing to renovate. Although renovations seem grand, many who go through the process have suggested they would not choose to live through it again. Their complaints? Contractor presence daily, loud noises like hammering and sawing, and sometimes even the quiet of no workers at all leaving them wondering. "Why are they not working today?" and "When we we be done with this Chaos?" Renovating can be more daunting than described by the contractor when you signed the contract.
If a current house fits the needs as far as space and accessibility concerns, then a renovation could make sense.
Warning: Some renovations end up changing the identity of the home and impacting resale value both positively or negatively.
With home prices increasing steadily for the last 6.5 years, homeowners have naturally gained equity that they may not even be aware of. Listing your house for sale in this low-competition environment could net you more money than your renovations otherwise would.
I know in St. Johns County Florida, many people have chosen to purchase New Construction homes instead of renovations.
Bottom Line: If you are one of the many homeowners who is thinking about remodeling instead of selling, let's get together. I will give you honest feedback for today's market conditions.  This will help you make the right decision for you based on the market demand for your house.